How to Convert Text to Morse Code?
Dealing with any kind of Morse translation, the most vital thing is the Morse Code Chart. Memorizing the full chart is difficult, so it's better if you keep this chart handy. You can access the chart anytime from our website.
Let's understand the translation with the help of an example.
Example
Let's convert "Cake" into morse code.
When you place this word on our translator then you will get the output as below.
Morse Code: -.-. .- -.- .
Let's check how we can get this manually.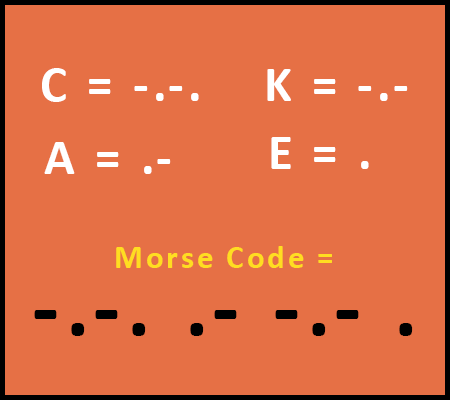 Follow the step by step instructions below.
"Cake" has four letters 'c', 'a', 'k', and 'e'.
First of all, Look for the Morse code for all individual letters from chart.
Starting from the first put all Morse codes in order.
At the end you will get a string like this "-.-. .- -.- .". It's your Morse code translation result.
That's it. Very Simple!
The same thing happens in our morse code decoder to convert Text into Morse Code. Also, you can try writing your name in Morse Code. Then verify it using the translation tool.